Adjusting to life with a newborn plus hosting my parents visiting from Australia, I had a wish to simply walk into a venue and have everything prepared and organised for our daughter's 3rd Birthday. This was achieved with relative ease by placing our faith in Kafe Kakao.
Lucie was very excited about her approaching birthday, she'd been talking about it for almost 6 months! And with a new baby brother on the scene plus all four grandparents in town, we had much to celebrate.
I knew the venue well and had enjoyed very healthy and delicious food there so I was happy with my decision. We paid a flat fee to hire the cafe (which was decorated for the party) the food and birthday cake plus there were two staff members on hand to serve drinks and clean up afterwards. Simona suggested to us a very casual buffet menu that consisted of a couple of quiches and vegetable slices, cous-cous salad and greek salad. Sweet offerings were fruit salad and the birthday cake (I supplied a number 3 candle to place on top of the cake).
The cafe also serves both alcoholic and non-alcoholic drinks. You have the option to pick up the bar tab at the end of the party or guests can pay for their own drinks. The coffee came in handy for those who were sleep deprived, other guests wisely chose the odd drink to handle the chaos and noise that results when you put many young kids in a room together with some sugary treats!
I organised a couple of games for the kids. Pass-the-Parcel was on the floor in the play area, I purchased little gifts such as keyrings, playing cards, sweets and hair elastics and placed these within layers of paper. Kids rip off a layer of paper when the music stopped. Unfortunately the music was not loud enough in the play area so we had to crash together saucepan lids!! The kids really didn't care, they just wanted to get their hands on the parcel. A tip is that Vietnamese shops are quite handy in sourcing cheap but cute keyrings, hair clips and hair elastics.
The other game and the star attraction was the Pinyata. The previous year I made one for Lucie's 2nd but this year there just wasn't the time, instead I headed out to Nove Butovice Shopping Centre and chose a lovely Pinyata. Now the Pinyata wasn't cheap, but as my mum pointed out you could reuse it again and again if you wish. The chosen Pinyata was designed for smaller kids, it had ribbons underneath that children pull to release the goodies inside - I still provided a paper roll so the children could give it a good beating beforehand.
So you can see from the photos that the kids had a ball and the feedback from parents was positive too.
Kafe Kakao can host up to 24 adults plus however many kids tag along with them. We had 20 adults and 16 kids, there was enough seating and tables for everyone and if at times it did seem a bit cramped you could always retreat to a quieter spot. The play area was very popular with younger kids, the older kids do tend to take over the whole space - best to ask the cafe to lock the front door once your guests have arrived to ensure no kid manages to escape outside.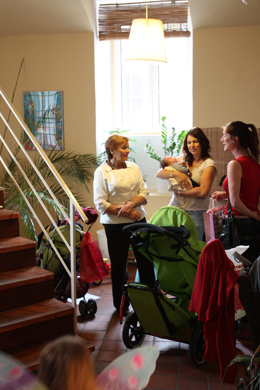 The cafe has one morning or afternoon every weekend and weekday reserved for functions, so dates are limited. We reserved our date a few months in advance as we knew my parents would be out at that time, plus so many children have birthdays in June. For further information on available dates and cost please contact Simona at .(JavaScript must be enabled to view this email address)
OPEN: Every day from 10am till 8pm
ADDRESS: Corner of Americka and Machova Streets, Prague 2
DIRECTIONS: By Tram take 4, 22 or 23 to tram stop Francouzka and walk down Machova Street. By Metro catch the green A line to metro stop Namesti Miru and walk up Americka Street. Parking here is difficult as Prague 2 has residential parking and only a few streets have paid parking spots.
FURTHER INFORMATION: http://www.kafekakao.cz/ and http://www.pro-party.cz/en/homepage/