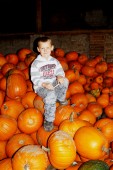 Need some pumpkins before Halloween? One of the popular places to go is Bykos Pumpkin Farm near the town of Beroun. It is best to go on the weekend and to spend a whole afternoon there! Apart from choosing pumpkins for a reasonable price you can ride a pony, see rabbits, turkeys and eat on the spot - pumpkin soup, for example, or an apple-pumpkin strudel.
Many Expats in Prague already know about this farm and I have heard many Americans do group trips here before Halloween. But, when I searched web to find more information about the farm I didnt find much. Therefore we decided to post our own article.
You will find all types of pumpkins here, small, big, yellow green, stripy ones as well as bouquets of dried flowers and gourds. Food is usually available on weekends without a reservation, although it's best to check with the farmer when you speak with him to arrange your visit.
The farm is open throughout Autumn every day although it's wise to first call or email English-speaking Jan Brotanek to arrange your visit. I just spoke with him and he said if you want to visit during the week days it's best do do so in the afternoon after 15:00. He can also cater to visiting groups by offering home cooked speciality foods eg. pumpkin soup, pumpkin pies and grilled meat.
I've heard from a couple of parents that an autumn visit to Brotánek Farm in Bykos is one of the highlights of the year and a must not miss occasion. Our family spent a great afternoon there. The boys played in the playground and ran around, us parents chilling out on the wooden benches munching on grilled pumpkin slices and eventually chose our pumpkins to carve.
The Pumpkin farm does not organize a Halloween event because they are the main supplier of pumpkins for the Botanical Garden in Prague that hosts a Halloween & Pumpkin Carving event every year on 31.10 so they are present at the event as well.
This year they will have a stand at Zlicin in front of the shopping mall Metropole Zlicin, where you could also pick some pumpkins. Yet I suggest the drive out to the country side with the whole family to enjoy the autumn day directly at the farm.
ADDRESS: Bykoš Pumpkin Patch, Bykoš 8
CONTACT: call English-speaking Jan Brotanek for details or to arrange a special group visit on: 602 304 240, email: .(JavaScript must be enabled to view this email address)
DIRECTIONS: By car: Drive to Koněpruské jeskyně (caves) near Beroun, then follow sings to the village of Bakoš (about 5 km from the caves). Once in Bakoš, turn left at the pumpkin patch sign, then turn right after about a half-block into number 8, which is the farm. A visit to Bykoš farm, 35 kmFarm outside Prague, is a fun way to spend a fall afternoon. You can pick your own pumpkins in a nearly field, buy smaller pumpkins and gourds at the farm, and choose bouquests of pretty dried flowers and other treats, too. Childern can also visit the farm's rabbits, chickens and turkeys.