I reviewed the Dendrological Gardens back in 2009, we've enjoyed so many visits that we now buy an annual pass every April. The park has upgraded their features and I recommend it to families wanting space and tranquility away from town. We carry in a picnic lunch, thermos of coffee, frisbee and the kids bikes. It's easy to get to and everyone enjoys the unexpected quirks that sit within the gardens.
Nearby is the better known Pruhonice Park, a favourite with it's romantic castle towering above the grand lake, but it does get terribly busy over Spring and Summer. The Dendrological Gardens sit on the opposite side of the D1 freeway to Brno, the park has over 73 hectares of landscaped grounds, perfect for walks and picnics.
The garden features a large outdoor playground, wooded areas, meadows, a japanese garden with koi pond and a large lake which empties into a cascading stream. The stream bubbles into a romantic ravine full of rhododendrons, ferns and azaleas.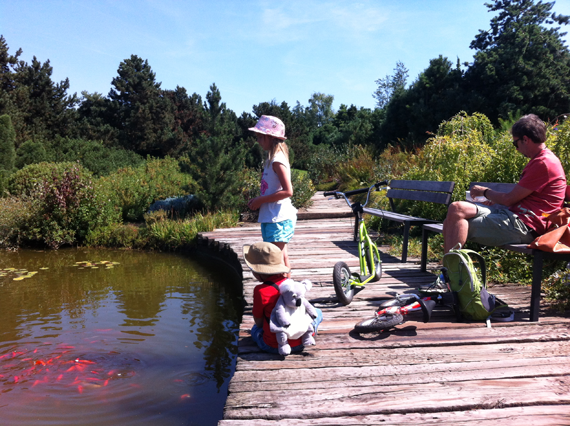 Find a spot and laze in the clean, green grass (dogs are forbidden) or shelter from the hot sun under an array of mature trees.
Two years ago the garden invested in a lot of outdoor furniture. Nice new picnic tables are now artfully arranged under trees, park benches are placed lakeside or in the full sun and plenty of bins are also installed.
An added bonus for our family of art lovers are the interesting sculptures that appear over summer, placed around the garden. Also, see if you can find the replica of Stonehenge, perched on a high hill.
For kids there are interesting bridges to cross, mysterious paths to explore and curious goat sculptures to examine and climb onto. There are ducks to feed, occasionally with baby ducks in tow plus frogs and koi in the Japanese Garden (another surprise that you have to search for). Don't forget the impressive playground just behind the main entrance which is definitely worth a visit.
At the entrance there is a small cafe/kiosk with a kids play area serving hotdogs, coffee, ice creams, drinks and snacks. You'll also find the only toilets in the park here. There is a garden centre that sells seedlings, herbs and mature trees.
The park is generally flat with a few small hills, pathways have been upgraded and are well maintained and easy to navigate with a stroller. Bikes are forbidden although an exception is made for children. We always turn up with our 7 and 5 year old on their bikes, it's never a problem.
One negative aspect of the park is it's close proximity to the freeway, the noise is noticeable at times, it really depends on the direction of the wind. We do not find it overwhelming and as you explore deeper into the park and veer more to the right it can disappear altogether. Another consideration, the park has a small carpark (free to use) which can become very busy on the weekends, especially after lunch so mornings are best.
Overall, this is one of our favourite finds, it's a real respite from urban life and we love experiencing the changing seasons - and with that in mind it's important to let you know that the gardens close from November till end of March.
OPEN: 1 April to 31 October (Tuesday to Sunday 9am till 6pm)
PRICE: Entrance is 60 CZK for an adult, 30 CZK for 6 to 15 year olds, 15 CZK for kids 3 to 5 years, kids under 3 are free. Family pass (2 adults and 3 kids under 15 years) is 150 CZK. Season Family pass is 1000czk (valid April to October). Parking is free, but limited.
DIRECTIONS: By Public Transport: Take Metro C (red line) to Opatov then change to Bus no's. 385, 363 or 328 to Čestlice.
By Car: Take the D1 Freeway in the direction of Brno, turn off at Exit 6 (Pruhonice). Make a right hand turn at the roundabout which will take you underneath the D1, go directly through the next roundabout and then turn into a small unmarked road to your left (just behind a gas station). The garden is just on the left side as you enter this small road. NB: The gardens are very close and almost opposite Aqua Palace Praha.
FURTHER INFORMATION: see http://www.dendrologickazahrada.cz