So these last few weeks Karen, Darina and I have been busy celebrating Christmas in our own unique way… David, Lucie, Ari and I had a White Christmas at home in Prague (at -14c) before flying to Sydney for a Beach Christmas (at 28c) with my extended family. Karen and her boys also headed to Sydney on the same day and on the same flights as us! So we were able to experience the delight of long-haul travel together, sharing our stories when transiting in Seoul before the final leg to Australia.
Thankfully for us, there was no Ivana Trump on board either flight!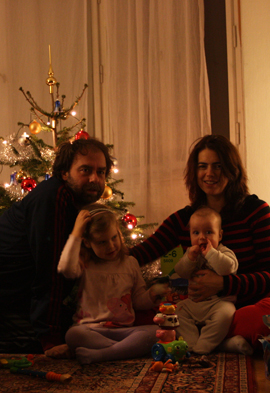 Meanwhile Darina has been holding the fort in Prague and partaking in the lovely Czech Christmas tradition of making Cukrovy (homemade biscuits) with her boys whilst trying to keep healthy in Prague's odd weather (cold one minute, warm the next).
So in closing we would like to wish our readers all the best over the holiday season and New Year. We thank you for your support and encouragement and look forward to sharing with you lots of interesting new places in Prague and surrounds, as well as kid friendly events and activities.
We would also like to send special best wishes to several friends who will be moving on to new countries in the New Year, there are quite a few of you and you will be missed! Thank you for enriching our lives and contributing to Prague's vibrant international community.