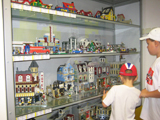 As I was walking with the boys through the streets of our beautiful city last weekend, enjoying the fantastic weather, we stumbled across a real gem right opposite the city department store My on Narodni Trida.
The recently opened LEGO Museum (or Muzeum Lega) is a private collection of over 2000 authentic LEGO models dating as far back as 1958. A real fan has managed to collect and assemble so many models of LEGO over the years, that he wasn't able to keep them in his home anymore and had to place them into this museum, for the rest of the world to enjoy!
Spread out over 3 floors, all of the models are displayed in glass cabinets. They are meticulously labeled and dated in both Czech and English, with a few endearing spelling mistakes to boot. Being a bit of a LEGO enthusiast myself, I enjoyed being able to see the production year and total number of blocks used to build each model. The models are also thematically arranged with the Star Wars section on the 3rd floor being particularly impressive.
My 5 and 9-year-old boys absolutely loved analyzing and scrutinizing each model and shrieked in delight when they discovered that they actually own or owned some of the items on show themselves.
The exhibition ends with 3 LEGO tables for free play for the kids and a small area where parents can sit down and enjoy a drink from the vending machine. Although our visit was on a gorgeous Prague weekend day, I think that this could be a great place to visit on a rainy day as well.
OPEN: Daily from 10am-10pm
ADDRESS: Narodni 31, Prague 1
DIRECTIONS: Nearest Metro: Yellow Line B - Narodni Trida (2 minute walk). You can park at Narodni Divadlo underground parking lot (50 CZK per hour) and catch tram down to Narodni Trida (1 stop).
FURTHER INFORMATION: http://www.muzeumlega.cz