Once you get here you will come back. It has it all. But to get here is a bit of a hassle. I live close to Prague 5 Motol – yet this restaurant is in the middle of a Stodulky block of flats and I am not a fan of those. I was invited by my friend Zuzka along with her kids and Hubby for his Birthday. Since then we have been back twice and are always happy.
The restaurant is big and has a spacious courtyard with an outdoor playground and climbing frames. All fenced so you will not lose your kids.
If it gets chilly you can stay inside where there is a separate playroom with toys and a TV. I love the decorations on the wall of Czech fairytale figures and not to leave foreigners out they decorated one wall with Disney Cartoon figures too.
The food. OH THE FOOOOOD here. We were 100% satisfied and we are spoilt tongues. Apart from amazing Chicken a la Saltimbocca we had Rocket and Cesar Salads. Anything we have tasted here was made professionally. I wish I could just stay and eat there everyday. For such food we would pay double the money in the center of Prague.
What was amazing was the staff. Our 4 kids are messy eaters and half of the food ended up on the floor. No questions asked, no faces pulled – they just cleaned it and brought the kids some Lego gifts!!!! Seriously, I could not believe we are in the Czech Republic and somewhere in Prague 13.

What kid of surprised me is that the restaurant is called MAJAK – The Light House. And then when you find it, it is literally sunk into the ground. Oh well I was expecting it to be somewhere high up – right? The only hassle is a parking. Since it it in the middle of the the housing block all parking spots are taken by residents and the cars hardly move. We had to drive around 3x to get a spot close to the restaurant. Good Luck, be patient!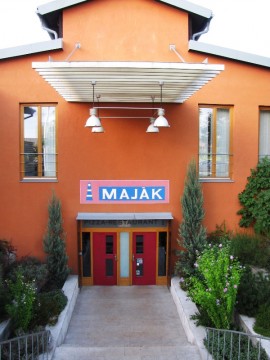 Anyway, this place gets my full recommendation, I would even not hesitate to organise a birthday party here.
OPEN: Mo-Sun: 11:00 – 23:00
ADDRESS: Šostakovičovo náměstí 1515/5, Prague 5
DIRECTIONS: By METRO: Take the yellow Metro line B to the station: Stodulky. From there walk towards the block of flats in Vlachova Street. This street will take you to the restaurant. By CAR: You have to get to the main road called: Jeremiasova that runs around the Prague Stodulky district. This road starts at the end of the Plzenska Street – turn to the left and just keep on going. Here you have to take a turn behind the METRO station Stoduly towards the block of flats. Drive to the street: Habova. Take a left and another left and you will be there.
FURTHER INFORMATION: http://www.restaurantmajak.cz/
BOOKING: 225 570 160-1, .(JavaScript must be enabled to view this email address)