The Saltzkammergut region of Austria is truly spectacular, massive alps surround pristine lakes offering ideal swimming spots on warm summer days. Boat cruises, sailboat hire, hiking, biking, cable car rides and cave visiting are just some of the activities going on in this region and it's a reasonably close 350km from Prague.
We've been here twice now and so have many of my Prague friends. I believe these are some of the best, most pristine lakes closest to our part of the world. Sorry, but for me the mostly man-made lakes in Czech Republic just don't cut it - give me a snow-fed lake anytime!
This is a region very popular with Austrians and Germans and you also occasionally hear Czech too. That doesn't mean that you need to speak fluent German to enjoy a holiday here, English seems to be spoken widely but it's always wise to learn a few courtesy phrases - greetings, please and thank you etc.
Last summer I took my sister here, it was her first time in this landscape and was quite an introduction. Classic Austrian villages sit at lakes edge with these impressively soaring mountains above. If these mountains inspire you then even with small children you are free to explore them via cable car and even via a rack railway that takes you right to the very top. There are several trails that are pram friendly, best to ask at the tourist information centre when you arrive.
What I've found great about this region is that we've always come here on a whim and found lovely accommodation that has fit our needs. No pre-booking or planning has gone into our trips, we've literally woken up and said 'How about a quick trip to Saltzkammergut?' Our trick, there is a very good information centre when you enter Saltzkammergut, it's on the main road just above the pretty town of Sankt Gilgen (Saint Gilgen).
On our first visit we had our dog Mango with us plus Lucie who was around 14 months old, so we needed dog friendly/kid friendly accommodation with a view of the lake, balcony and kitchenette - no problemo! We stayed in a lovely old style guesthouse run by an older couple in traditional dress. Breakfast was laid out in their beautiful garden and the eggs served each morning were from their own hens who would peck around your feet whilst you ate. My parents stayed here the following year but silly me - I forgot that my mum has Bird Phobia so instead of enjoying the lovely garden and sunshine each morning she instead was in fear of her life… over these harmless hens!
Last year my sister and I hoped for two bedrooms, a balcony and kitchen - we were traveling with our sons - one was almost 2 and the other 1. We were given several places to try including some out of town with gardens but we felt better staying in the town centre. We found a nice apartment in the centre with all our wishes granted but had to forgo the lake view. It was still nice though as we had a balcony with an outlook and the noise of a running stream across the road.
We've always chosen to stay in Sankt Gilgen, I guess it just really fits the bill for us - it's one of the first towns on the lake that you come to and has all the charm that you would expect. It is also the birthplace of Mozart's mother.
For swimming we've always found the opposite side of the lake the best. It's surrounded by forests and the further you explore, the more remote a spot you will find. When you drive over the opposite side of the lake you will need to pay a parking fee for your car. There are coves, inlets and small pebble beaches around the lake, I recommend sandals for getting in and out of the water. Back in Sankt Gilgen you can walk to various swimming spots, they are fine - just a few more people are around.
Last year we had a pretty nice outdoor dinner at the yacht club opposite the town beach that we'd had our evening swim in - I'd recommend this place as they had a big lawn that kids could run around on and the prices were good, more for the locals.
Some excursions we took were to the Ice Caves at Dachstein. Here you take a cable car ride half way up the mountain, you then have a 1km or less walk to the cave entrance and take a tour through with a guide. Inside the cave the temperature drops quite low so bring a jacket - within the caves you have not only the typical cave formations but permanent ice formations too - pretty impressive and the views from up top looking down were spectacular.
Nearby is the UNESCO town on Hallstatt - this beautiful village perched on the edge of the lake is picture-perfect and has appeared in countless magazines and movies for years. I read recently that the Chinese are trying to replicate Hallstatt in Southern China, building a lake and all the buildings exactly as they appear - good luck with that!!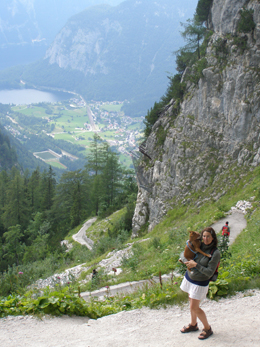 The elegant spa town of Bad Ischl (or what we stupidly refer it to as Bad Itch) was also enjoyable for walking riverside and visiting one of the traditional cafes. And yes, of course nearby there is the famous Saltzburg - I will be honest though, it is ridiculously busy, choked with tourists and rather dull. Český Krumlov is far-far more beautiful as are the other Austrian towns mentioned above.
Really this region is perfect for each family to explore their particular interests - the website that I've linked to below will give you many, many ideas on what is possible. Go on a whim like we did - especially if the weather gets stinking hot again! If you do go or have been, please share with us what you enjoyed most - I'm really keen to gather more information on this region that has so much more for us to explore.
DIRECTIONS: Take the E55 in the direction of Benesov and Ceske Budejovice and then across to Linz, Austria. From Linz join the A1 freeway (you will need to purchase an Austrian freeway pass) then take exit 264-Mondsee. Head to Wolfgangzee (Lake Wolfgangzee) and Sankt Gilgen, the accommodation/information centre is right above Sankt Gilgen at the roundabout. (please note: the map above also suggests an alternative route out of Prague through Pisek using the E49)
FURTHER INFORMATION: http://www.salzkammergut.at/en/4-08-0-1361335/start/familie.html