I look onto this famous tower every day - I love it but I appreciate it's controversial for some. The tower is fascinating to watch through the seasons - I've seen it disappear in fog, watched it battle lightning and admire it's monumental size lit up at night in red, white and blue - the national colours. Softened by David Černý's giant babies, this whimsy on the outside is now trying to be matched on the inside - the tower's internal spaces have recently undergone renovation to play up it's funky style. Unfortunately, I'm not sure I'm won over. I wonder what David Černý would have come up with if he'd been given the job….
I've been here quite a bit in the past, the entry fee was pretty cheap but they've jacked up the prices since the refit and rebrand. At least there is a family ticket which makes an excursion affordable but previously you could consider going up just for a visit to the cafe and it's great view. The price increase is probably justified as there are more and more tourists who hike up to Vinohrady/Zizkov curious to visit and get a new birdseye view of the whole of Prague.
The viewing rooms are very bare, grey and minimal in decor, I got the feeling that the refurb was still underway as there were staff members hanging up a few pictures around the upstairs lobby and 3 viewing rooms. I remember that in the past there was a raised platform in each room so that you could look over other people's heads, now the rooms are on one level. The style overall I'd classify as retro space age from late 60s/early 70s- but for me it's all a bit monotone - especially when it's mid-winter and outdoors ain't much better.
One fun addition in one of the viewing rooms are the sixties clear perspex swinging seats. As you recline back into these comfy (and funky) chairs you are treated to a Prague 'soundscape' - the sounds of the city humming below you, car horns, sirens, tram announcements, churchbells….. at an acceptable level that relaxes rather than irritates.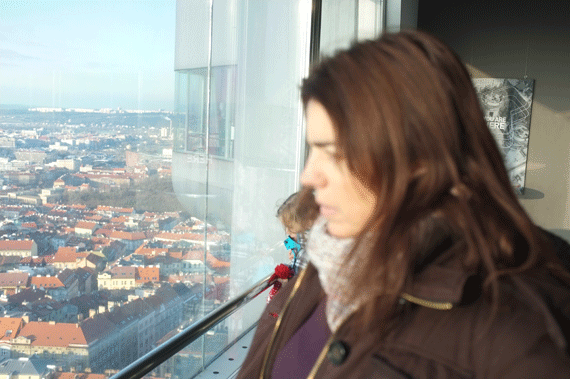 On the mid-level of the tower is a fine dining restaurant, a cafe, a bar and even more interestingly a one room hotel that you enter from the centrally located spiral staircase. Yes that's right, only one room! As you can see from below it's quite a spectacular view and the styling continues with minimalist decor - the ultimate spot for an anniversary, honeymoon or special occasion. I'd love to hear how it was if anyone does happen to stay there or if you try out the fine dining restaurant too?
For us though, on this occasion, we chose to visit the cafe. We'd been here quite a few times in the past and I was kind of fond of the old style - early 80s decor, Yea it needed an update but this particular space was just stripped back and devoid of atmosphere which was disappointing. The service was lacking but this was due to the fact that they were closing early for a private function and they were already racing around setting up tables up in the viewing cabins on the top level.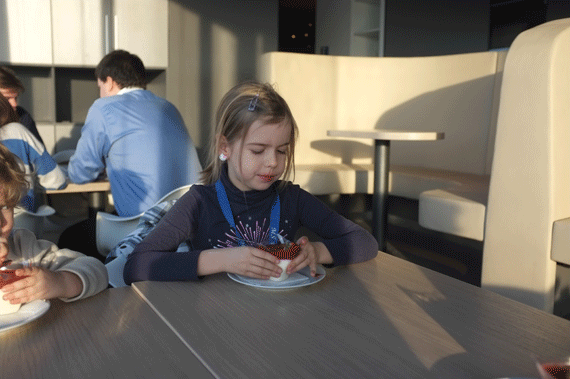 Still we paid a little more than usual to have our cake and coffee and staff could have been more attentive. On a normal day they would have regular meals and salads and the views are unlike anywhere else in Prague. For little ones, high chairs are available but the space is on two levels and quite small so prams would probably have to be accommodated outside.
So for some reason on this visit I felt very nervous when standing in the viewing cabins, you are very high up and can look straight down. I could have sworn that the tower was moving but really it was just my shaking legs and that weird feeling you get in your stomach when you are afraid of heights. It was not a case of alcohol consumption, just my messed up brain sending me into a small panic - I seem to get worse with age! Anyway, any thoughts I'd previously had of booking the hotel room in the future has now been scraped! :-)
Overall, the kids really loved the visit and spotting their schools, playgrounds, apartment and friend's apartments too. I'm going back again over summer as i'm interested to see if they improve the ambiance further. But, the best news till last - the park below which has always been a breeding ground for dog poo and stoned teenagers is getting a make over too. By summer there will be a new outdoor cafe, a mini golf course and a brand new playground - fingers crossed that this does all come to fruition!
ADDRESS: Mahlerovy sady 1, Prague 3
OPEN: Every day 08.00 till 24.00
COST: Adult 150 CZK, Family (1-2 adults + 1-3 children under 14 years) 350 CZK, Children under 3 years FREE, Children from 3 to 14 years 80 CZK, Students (14 to 26) and Seniors from 60 years 100 CZK
DIRECTIONS: By Metro: Take the green line A to Jiřího z Poděbrad, it's about a 5 minute walk to the tower. By Tram: Take Tram number 11 to Jiřího z Poděbrad or take 5, 9 or 26 to Lipanská tram stop then walk up. By Car: There is some paid parking spots in Ondrickova and Fibichova.
FURTHER INFORMATION: http://www.towerpark.cz/en