Guest report by Lee Rose Emery
When you think of Sunday brunch in Prague, a high-end hotel may come to mind. While great for special occasions, a regular weekend spend of 1000czk a person may not be something you are willing to go for. But there are a number of cozy brunch spots that you may not be aware of that won't break the bank, and offer a lovely way to spend the morning with friends or family. Here are my top favorites. I tend to gravitate towards the spots with a relaxing atmosphere, and in addition to lunch items, serve a variety of eggs dishes which my kids will actually eat, and of course, an endless supply of great coffee.
Radost, in Vinohrady, serves a nice weekend brunch in their café. The atmosphere is funky, and the service pleasant. The fresh squeezed orange juice was a highlight for me along the gigantic homemade cinnamon bun. For a main course I had scrambled eggs with spinach, (135 CZK) which were also good, and came with sweet potatoes. The portions were very large, and a drip coffee was nice and rich and comes with two automatic refills, which is unusual in Prague. Radost's hip vibe makes it a good spot to bring out of town visitors, but if you are looking for a more classic elegant Prague brunch I would head over to Café Savoy.
Further Info: http://radostfx.cz/restaurant/en/menu/brunches.html
Address: Bělehradská 120, 120 00, Prague 2, Czech
Café Savoy is my all around favorite spot for brunch for the combination of beautiful atmosphere and stellar food. The airy feel of the rooms, the ornate ceiling, and the freshly baked croissants and cakes make Café Savoy a perfect brunch destination. The coffee is strong, and the eggs parmesan (145 CZK) served in a martini glass always taste fantastic. Although it can get crowded on the weekends, you seldom feel rushed while dining. All in all Café Savoy is a great choice. Especially if you are just passing through Prague and want an old world elegant dining experience, Savoy is a must. It is also a treat to go downstairs to the window that overlooks the pastry kitchen. You can see the pastry chefs in action frosting cakes, kneading dough, or adding finishing touches on their sweet masterpieces.
Address: Vítězná 5 
150 00 Prague 5 Malá Strana
Further Info: http://cafesavoy.ambi.cz/en/
The Globe Bookstore and Cafe is another Prague standard for traditional American style brunch. The pancakes and cinnamon French Toast (135 CZK) is light and fluffy, and there are a multitude of egg dishes to choose from as well. Bagels and cream cheese are also a favorite with young diners. Brunch is offered from 9:30-4pm on Saturdays and Sundays. As an added bonus, most Sundays The Globe offers children's storytelling from 11-2 pm in the English language bookstore, where local actresses read to youngsters while their parents dine
Address: Pstrossova 6, Prague 1
Further Info: http://www.globebookstore.cz
Brasserie La Gare is located right across the street from the Marriott in Namesti Repubicky, is an unassuming little French café that is also very nice for brunch. An array of pastries and breads offer a truly authentic French feel in their gourmet take out section. The eggs benedict is a personal favorite of mine, as well as the bacon and potato omelet (135 CZK). The croissants are flakey and tres delicieux as well. Brasserie La Gare has a Family Brunch every Saturday and Sunday from 10 till 4pm. They also have a kids menu and play corner with a babysitter to look after smaller kids.
Address: V Celnici 3, Prague 1
Further Info: http://www.lagare.cz
Cukr Kava Limonada is a Mala Strana restaurant is easy to overlook, but worth visiting for brunch. The restaurant feels hip and modern with a touch of old world style. I love the Material design chandelier that hangs in the smaller room, and also the gorgeous ceiling. The onion eggs (99 CZK) are particularly light and savory, but also a highlight are the ultra thin crepe-like pancakes that you can order with just sugar and lemon, or chocolate. The cookies are yummie too.
Address: Lázeňská 7, Praha 1,
Further Info: http://www.cukrkavalimonada.com/en/restaurant/
Bohemia Bagel has locations, one in Old Town, and one in Mala Strana, and one in Prague 7. I like the one in Old Town as this venue has a sweet children's corner making it a nice spot particularly on a colder morning. They have traditional fluffy pancakes (125 CZK American style) eggs of all kinds. Of course bagels, and their drip coffee is surprisingly good, too. This is an ideal family spot, unpretentious, and casual, and a nice place to meet up with a group of all ages.
Addresses:
Masná 2, Prague 1 (Old Town)
Lázeňská 19, Praha 1 (Malá Strana)
Dukelských hrdinu 48, Prague 7
Further Info: http://www.bohemiabagel.cz
Café Giraffe in Suchdol is a restaurant you may have never ventured to, but, there it is a delightful creperie and café, which particularly when the weather is nice, is a great place to brunch and lounge outside. Their selection of homemade cakes, their array of pancakes (88 CZK) eggs with bacon (119 CZK) and of course the crepes are impressive (88 CZK). Also, as it is a bit removed from town the prices are very reasonable. You can also order cakes and desserts to take home for special occasions.
Address: Brandejsovo Namesti, 1234/6, Prague 6 (Suchdol)
Further Info: http://www.cafegirafe.cz
SaSa Zu does admittedly fall into the splurge category in terms of price but has a delicious Family Sunday brunch, which is like no other in the city, so I must mention it. They serve their traditional Asian menu, which is always scrumptious, but it is the atmosphere and other features they offer on Family Sunday that makes it a great outing. The day we went there was a massage therapist there from Sabai giving neck massages to the diners. A clown entertained the children when they weren't cooking in the kitchen with the chef. They set out board games and toys set for the kids to play with. Also popular is an X-box in the corner. All this means is that if you go with several families and spend the morning there, you actually get a big bang for your buck considering that the kids are thoroughly entertained while you and the adults have a leisurely delicious Asian style meal. I love the Zu Filet, (395 CZK) which is filet mignon with long shallots and mushrooms.
Address: Bubenské nábřeží 306/13, Prague 7 (Holešovice)
Further Info: https://en-prague.sasazu.com/enjoy/sunday-brunch
Now that we are into cooler weather, it's an ideal time to take a brisk walk through Prague and to a neighborhood you may not be familiar with, and enjoy a relaxing weekend brunch. All of these fantastic spots are worth a try. And if there's one missing from this list, write in your favorite, so I can try that next!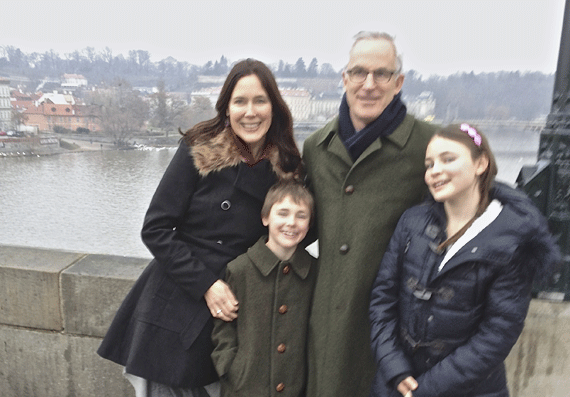 Lee Rose Emery is an actress, writer and editor-in-chief of the award-winning blog, LA City Mom, "tips from the carpool lane…", based in Los Angeles, California. Lee is currently living in Prague, the Czech Republic, with her husband, nine -year-old son and daughter, 11.