Brand New Playground! Since August our local park has been closed for complete renovation, we've waited in anticipation for it to open and today was the day. The playground has tripled in size and now has an extensive network of paths that meander down the hill. Seating is throughout the park, some of the nicest areas are down among the trees and even include small tables.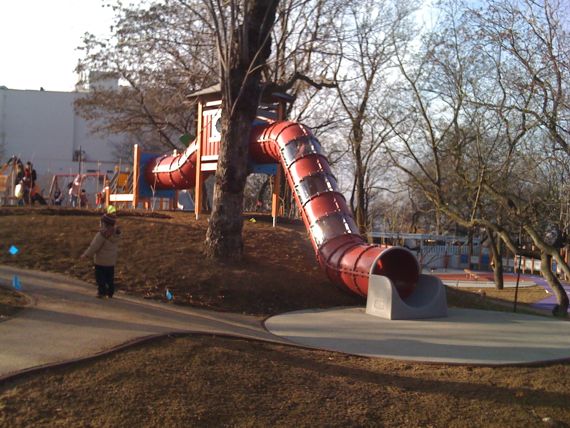 Two slides are embedded into the hill, one for big kids the other for smaller kids and the feature piece of the park is a huge dragon made up of climbing frames and a slide. The equipment is a mix of brand new and revamped old favorites installed on top of a rubber surface. The old sandpit under the large tree is no longer, instead there are a series of sand pits that can be covered up and kept clean when the park is closed.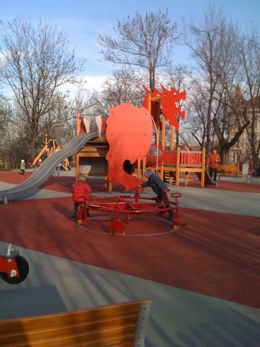 A brand new toilet block has been built and the entrance has been moved away from the busy beer garden and restaurant area and something that I'll find very handy, at the entrance there is a place to park your dog!
The park is completely surrounded by a colourful wooden pencil fence so you don't have to worry if you temporarily lose sight of your little ones. The park has also been landscaped and plants added, but these won't really take effect until Spring/Summer when the whole area should look even more transformed. New photo added below shows you the transformation taking place. This playground faces south and is fairly sheltered, so it's a good option for kids on cooler days.
OPEN: Every day. In Summer from 8am till 9pm. In Winter from 8am till 7pm.
ADDRESS: Riegrovy Sady, Chopinova ul, Prague 2 Vinohrady (bordering with Prague 3 Zizkov)
DIRECTIONS: By Tram take 11 to tram stop Vinohradska Trznice or trams 16 or 10 to Sumavska. By Metro catch the green A line to metro stop Namesti Miru or Jiriho z Podebrad. Paid parking available in Polska ul.